Tube Trips & Rentals
Beat the heat, Get on the river! Tubing trips are a great way to spend a hot day on the cool river.
Come along on the best tube run on the Wenatchee River; from the Leavenworth KOA to our private beach takeout, Happy Wave! This trip can be as long or as short as you want and includes shuttle service. Run swirly laps at the put-in on the KOA eddy, have splash wars with our Osprey-paddle-Frisbees, or just enjoy a lazy float heading downriver. There is a little thrill to your lazy float with two Class-II waves but no worries, they are designed for tubing. When you're finished, chill at the beach as long as you want and enjoy a burger fresh off the grill. You are invited to play on our Happy Wave paddleboards & kayaks.  Tube rentals only: take our rented tube and spend the day tubing at any location (no shuttle service.)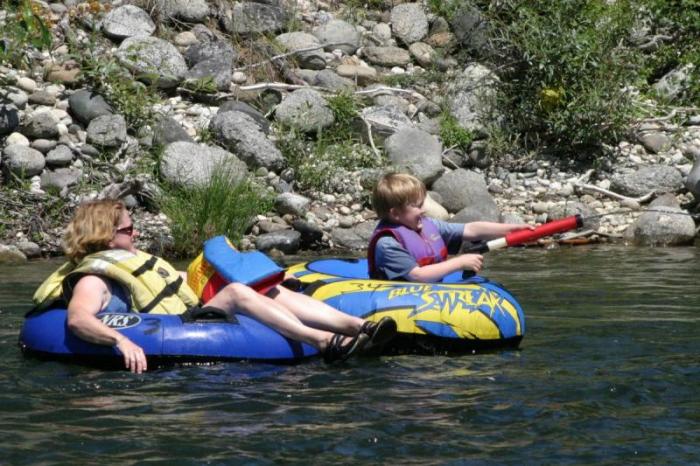 What a way to beat the heat!!!
TO BOOK YOUR RESERVATION FOR TUBING CALL OUR OFFICE 509.548.6800
Important Information:
Age limit for tubing is 8 years old; if between the ages of 3 and 8, we will happily rent you an Inflatable kayak so that you can stay together! Just let us know :)
Happy Wave Directions:
1.) From Leavenworth drive East on HWY 2 for 3 and a half miles.
On your right you'll pass Prey's Fruit Barn with a large American flag.
Continuing on HWY2 you will get a view of the Wenatchee River on the left, immediately followed by a large gravel parking lot on the left.
Turn left into the gravel turnout. There is a sign that says Happy Wave Beach Club at the bottom.
Seek instructions as to where to park
From Wenatchee, drive West on US 2, pass Smallwoods on your left and the gravel turn out will be on your right.
After arriving at Happy Wave, the shuttle will drive you to the KOA campground where you will receive a short river safety briefing. The float down to happy wave beach club can take anywhere from 45min to 2 hours; make your own adventure by checking out the beaches or hustle down to see how fast you can paddle. We encourage you to take it slow if you are looking for a longer trip. You will float right down and take out at Happy Wave where your car is parked.
Cancellation Policy:
Full refund with a cancellation notice of 30 days or more
2 weeks to 30 days notice - 50% refund or you may reschedule
1 week notice - 25% refund or you may reschedule
Price:
$30 including the BBQ $22 w/o BBQ. Daily Tube Rental $20 (No Shuttle)
Meet Time:
Meet us at Happy Wave and we'll take you to the top! Tube Rental Only - PIckup tube at the Osprey Office
Length:
We provide a shuttle every hour from 11am-4pm on weekdays and 10am-5pm on weekends. Tube Rental Only - Day usel
Level:
Class I-II Rapids Lazy Float
Osprey Rafting Co. is excited to have you as our river customers.  Whatever trip you decide there will be hundreds of cool things to look at including Tumwater Canyon, Mt. Cashmere, Various Fruit Orchards, The Apple Juice Pipeline, Osprey Nests, the Peshastin Pinnacles and numerous birds, fish and little lizards.  Make sure to ask your guides about all these things and learn more about our river valley.  What will your favorite part be?  
To Keep in Mind
"Trip Length", displayed above, is an estimated amount of time required for the adventure. This includes the time required from arrival at Osprey to when rafters are returned back to their vehicles. Actual time on the water can change with water levels, weather, and other factors.
Full payment is due 30 days in advance.
Please keep in mind that the price of each trip does not include gratuity for our guides.
Cancellation Policy:
Full refund with a cancellation notice of 30 days or more
2 weeks to 30 days notice
50% refund or you may reschedule
1 week notice
25% refund or you may reschedule
We provide wet suits, life jackets, booties, and paddles.
We recommend that you bring:
Sun block
Water shoes that stay on
A sun hat
Sunglasses with retainers similar to Chum's
A water bottle
A towel
Do not bring:
Any expensive sunglasses
Watches
Hearing aids
Phones, or other electronic devices
Anything you do not want to get wet or lose
*Sunglasses, sunglass retainers, sunscreen, water shoes and other apparel available at the Osprey Office.
For family reunions, company outings, conference excursions, you name it ... Let us know how we can help you plan your event.
Osprey photographers provide professional photos to take home the memories.