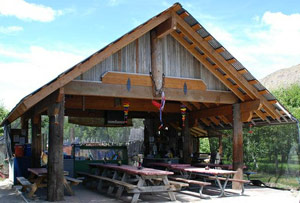 Arriving in Cashmere, we will disembark on Osprey's private riverside beach party location called "Huck's Landing" where you can enjoy a yummy BBQ beach party prepared just for you! Hang out in hammocks by the river, play on our rope swings or compete in a round of horse shoes! A bonfire is hot and ready when you arrive to the take out, complete with a s'mores station for dessert!
On Saturday afternoon trips, enjoy live music by regional favorites, Stephen & Sergio!
After Your Trip: There will be time to change into dry clothes and enjoy watching an action-packed slideshow of your trip with your friends and family!
Tasty vegetarian options are available upon request.