Adventure River Tubing
Beat the heat, get on the river! Osprey's Adventure Tubing trip is a great way to spend a hot day on the cool river.
Adventure River Tubing on the Wenatchee river!
Come along on the best tube run on the Wenatchee River.  This trip can be as long or as short as you want and includes the shuttle. There is a little thrill to your tubing float with two Class-II waves but no worries! We provide the tube, frisbee paddles, life jacket and shuttle. Must know how to swim proficiently.
SHOES!!! NO FLIP FLOPS!  WATER SHOES, OLD TENNIS SHOES OR WATER SHOES ONLY!
Each year the river flows change - Early season age is 12 years old, as the river changes we may change our age policy to 10 years old.  Must know how to swim proficiently. It would be best to call for more details. 
There are no discounts or refunds on River Tubing - When making reservations please be aware of this policy!
There is a short hike to the river that has obstacles like rocks and gravel (about 5 minutes) once you have checked in. If this is a concern for knees, hips or other ailment please call for details.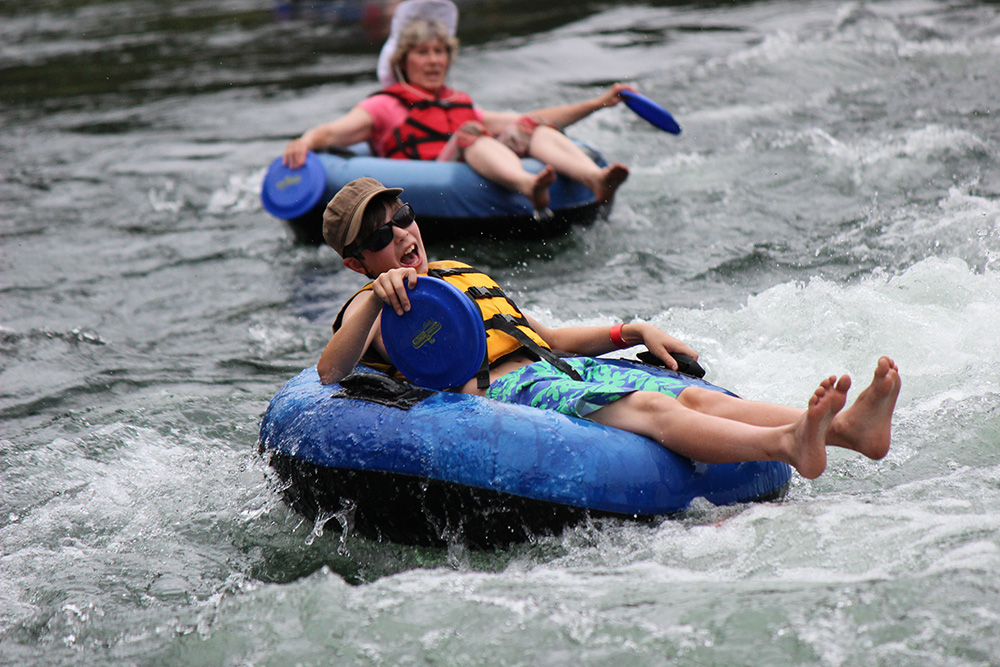 Happy Wave Directions: 10576 Highway 2 Leavenworth, WA 98826
1.) The Happy Wave Beach is about 2 miles east of Leavenworth.
On your right you'll pass Prey's Fruit Barn with a large American flag.
Turn left into the gravel turnout. There is a blue and white surfboard that reads Beach House. The tubing shack is to the left as you come down the driveway.
Please seek instructions as to where to park.
After arriving at Happy Wave, the shuttle will drive you to the river where you will receive a short river safety briefing and directions. The float down to Happy Wave Beach Club can take anywhere from 45min to 2 hours; make your own adventure by checking out the beaches. We encourage you to take it slow if you are looking for a longer trip. Your float will take you directly to the Beach Club where your car is parked.